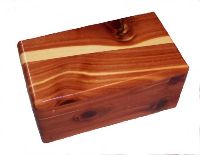 SMALL AROMATIC CEDAR KEEPSAKE BOX
Our Small Keepsake Box is the smallest of boxes we make. This Keepsake Box measures approximately 7"L x 4"W x 3-1/2"H.
All of our Keepsake Boxes come with the following standard features:
- Handcrafted from solid Aromatic Cedar
- Brass Hardware
- A minimum of 3 coats of finish to preserve the wood and resist staining
- Lined in felt
- A free inscription on the inside of lid.
Name or Initial Option: For those that may not want artwork on their box, one very popular option is to add a woodburned name or initials to the outside top of the Keepsake Box. We would be happy to woodburn any name or initials to the top of your Keepsake Box for an additional charge of just $7.50.