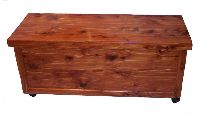 EXTRA-LARGE AROMATIC CEDAR CHEST
Our Extra-large Chest is the largest size Chest we make for stock items. This chest measures 20 "W x 19 "H x 52 "L. This is the perfect size for queen or king sized beds. This gorgeous chest is very popular with or false bottom option and scalloped trim option. This size chest is our most popular seller.
Standard Features on this chest include:
- Handcrafted from Solid Aromatic Cedar
- Brass Hardware to include:
- A piano hinge for the top for durability
- Locking side hinge for safety
- Casters for easy moving
- A minimum 3 coats of finish to protect the wood and prevent staining
- A FREE inscription is included on the inside of any top.
The free inscription is your opportunity to customize your gift and make it very special from the heart. The inside of Cedar Chests tops provide a wonderful space for that message just from you. Then, every time the chest is opened, that special person will be reminded of you and this time in their life. Up to 25 words would be included for free. Additional packages of up to 25 words can be purchased at $40.00 per package.
Name or Initial Option: For those that may not want artwork on their Cedar Chest, one very popular option is to add a woodburned name or initials to the outside top of the Cedar Chest. We would be happy to woodburn any name or initials to the top of your Cedar Chest for an additional charge of just $35.00.